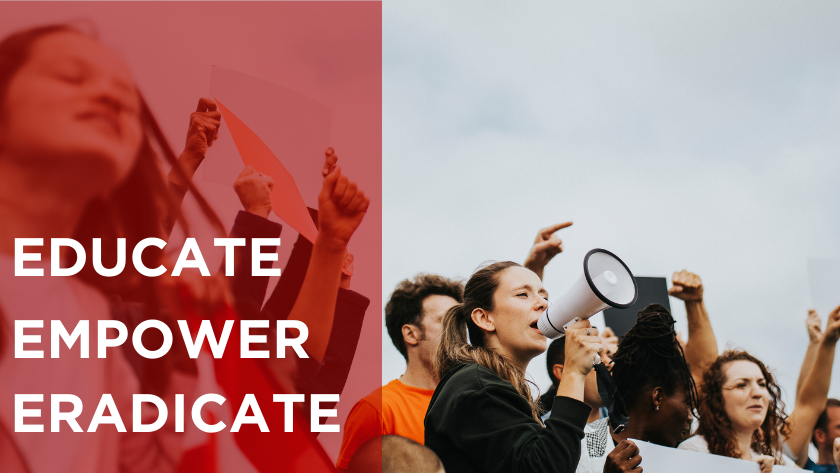 The Centre Against Sexual Exploitation, South Africa – Looking back at our work over the first trimester of 2022
The Centre Against Sexual Exploitation, South Africa – Looking back at our work over the first trimester of 2022
At the Centre Against Sexual Exploitation, South Africa (CASE-SA), we live to see every person's inherent dignity being respected and protected, and for all people to live lives free from pornography and other forms of sexual exploitation! We employ a three-pronged strategy, called "Educate, Empower, Eradicate", to achieve this vision, and this is what it looks like:

EDUCATE – EMPOWER – ERADICATE 
We aim to –
EDUCATE 

society on the 

harms

 of pornography and other forms of sexual exploitation; 
EMPOWER

 people to 

protect

 themselves and others from exposure to pornography and other forms of sexual exploitation (including equipping people on




how to 

respond to

 exposure and 

recover from

 the effects of exposure); and
ERADICATE

 the distribution of pornography and 

prevent

 other forms of sexual exploitation, to the fullest extent of the law.

The first five months of 2022 are already behind us – and what a fruitful five months it has been. In this article, we take a look at what CASE-SA has been doing to move closer to fulfilling our mission of a society free of pornography and sexual exploitation.
MAIN FOCUS
PROSTITUTION LAW REFORM IN SOUTH AFRICA
In February 2022, the Department of Justice and Constitutional Development initiated a process to formulate an official policy regarding the legal regime applicable to adult prostitution in South Africa. This is being done by way of consultative meetings with various stakeholder groups. 
CASE-SA has been actively involved in law reform discussions in this context since 2016. The undeniable truth is that prostitution is inherently harmful and exploitative and can never be regulated in a dignified manner. 
Since becoming aware of the government's consultative process, we reached out to the Deputy Minister, requesting an opportunity to consult with the Deputy Minister directly.
We pulled together a cross-section of likeminded organisations, groups and stakeholders within civil society to collaborate together under the banner of a Collective Against Sexual Exploitation.
Under this collective banner, we have been lobbying government to not fully decriminalise every aspect of the sexual exploitation industry. Part of our work has been to capacitate and empower others in civil society to effectively put their case to government, including, amongst others, developing a brief to religious leaders to equip them to advocate against the full decriminalisation of prostitution in consultations with the Deputy Minister.
Central to our efforts is giving everyone in society an opportunity to use their voice for good. Anyone can make their voice heard by signing our collective petition to Say NO to legalised Sexual Exploitation, Brothel-Keeping, and Pimping in South Africa.
Our collective efforts revolve around a specific online rallying point, situated on our website:  Our Prostitution Law Reform campaign page, where we put forward the case against full decriminalisation of prostitution, amplified by a hard-hitting "What are the facts?" section and a "Media" section with excellent video and audio resources.
Other media work on the campaign included –
Interviews with local radio stations,

Cape Pulpit

and

Radio Tygerberg

Raising awareness through regular

News briefings

to our Newsletter subscribers

Publishing blog articles featuring key points of the debate in South Africa, including:
 EDUCATE AND EMPOWER
#PARENTTALK ON THE UNSPOKEN EPIDEMIC OF CHILDREN AND PORNOGRAPHY
If you are a parent, educator or other caregiver, you will be very excited about our brilliant online child protection resource called – #ParentTalk on the Unspoken Epidemic of Children and Pornography.
The purpose of #ParentTalk is to educate and empower parents and other caregivers to protect children against the harmful impact of pornography. If you feel like this is a scary or daunting topic – DO NOT WORRY! – #ParentTalk delivers a message of hope and is presented in a straightforward and easy-to-digest way. 
The training course includes 4 core modules consisting of 90 minutes of video interviews with local practitioners in the field of online child safety, covering topics such as:
The prevalence and harms of pornography exposure

The impact of pornography on the developing brain

Empowering parents and caregivers to protect children and prepare them to respond appropriately to exposure

Safeguarding children with the use of technology resources
We encourage you to head over to our dedicated #ParentTalk website and sign up for the course today! The virtual platform enables you to work through the training material at your own pace as your schedule allows.
Available Online and In-person
After many months of presenting the course online only due to Covid-19 government restrictions, we are delighted to be able to present this informative and life-preserving course in person again.
Our first voyage back into the real-world space was a presentation of the #ParentTalk course to the Drakenstein Child Protection Forum earlier in the year. We look forward to hosting bi-monthly in-person and virtual #ParentTalks over the remainder of the year. We will also be presenting to 20 high-risk schools within the Western Cape Education Department structures, and are earmarked to visit a local community in the Free State later in the year.
Contact us
If you would like us to present either an in-person or virtual group event to your community or network, please make contact by sending an e-mail to:  parents@case-sa.org 
CITY OF CAPE TOWN HUMAN TRAFFICKING AWARENESS RAISING WORKSHOP
We formed part of the City of Cape Town's two-day training programme which was held on 16 and 17 March 2022. Here we gave a presentation on the links between pornography, prostitution, and sex trafficking. In the presentation, we emphasised the link between the legal status of prostitution and the creation/production, distribution, and consumption of pornography, and show that there is an undeniable connection between prostitution, pornography, and sex trafficking (and other forms of sexual abuse and exploitation). 
Where one of these forms of sexual exploitation increases, due to for example the legalisation thereof, it is inevitable that the other forms will also increase. We are always encouraged to see people working on ground-level come to these training interventions to get equipped and take the message into their communities. It is only when we all work together that we can achieve lasting change in eradicating sexual exploitation.
ERADICATE
When it comes to eradicating all forms of sexual abuse and exploitation, CASE-SA focuses on advocacy, creating awareness, and law- and policy-making initiatives. Our goal is the eradication of sexual abuse and exploitation in all its forms and ensuring that the law has the necessary protections in place to keep vulnerable groups in South Africa safe from harm!
CHILD SEXUAL ABUSE MATERIAL – CASES SEEMINGLY ON THE INCREASE IN SOUTH AFRICA
Over the first five months of the year, we have seen an increase in cases of young girls being targeted, exploited, and extorted for sexually explicit images of themselves (child sexual abuse material). This abuse also includes the online or virtual distribution of the images to wider audiences.
Our role in these matters has been to provide parents of victims, educators and caregivers with support by way of critical information and putting them in contact with the best equipped service providers in our network to assist with criminal investigations and prosecutions, and with child trauma therapy. 
*****
In April, we were invited to take part in a Child Protection panel discussion at a parent evening of a prominent independent school in the northern suburbs of Cape Town. Our contribution to the panel focused on the legal implications of child sexual abuse material (CSAM) and obligations flowing from its creation, distribution, viewing and possession. Due to the ostensible increase in CSAM cases, we realise (with the benefit of hindsight) that these speaking opportunities are critically important and very timely.
PORNOGRAPHY
We have focused on various projects in 2022 to ensure South Africans – and especially children – are protected from the harmful impact of pornography. Let's look at a few such projects that we are involved in:
South African Law Reform Commission Report 107: Sexual Offences (Pornography and Children): 
Report 107 was published in March 2022. It focuses on ensuring South African law comprehensively and effectively protects children from pornography. We participated in the Commission's public consultation processes on how to best protect children from the scourge of pornography. 
The Commission's final report contains some of the proposals we raised. However, we will continue participating and engaging on the issue of protecting children from the harmful effects of pornography. 
Safer Internet Day: 
During February, we ran a social media campaign educating parents on how to create a safe internet environment and keep children safe from the harmful effects of pornography and sexual exploitation.
TOGETHER WE CAN #ENDSEXPLOITATION IN SOUTH AFRICA
In our pursuit to #EndSexploitation in South Africa, we work together with others in the movement. As each person and organisation does their part, we move closer to making the vision of "eradicating sexual exploitation in our lifetime" a reality. It's a long and tough battle we're engaged in, and we need to support and encourage each other along the way!
LOCAL AND INTERNATIONAL PARTNERSHIPS
We engage with fellow stakeholders (both locally and abroad), ranging from other civil society organisations to academic researchers, to social services and child protection practitioners, to government departments and other institutional authorities, and concerned members of the public. We do so across a wide range of platforms and forums. We also continuously seek to participate in training and other opportunities to broaden and deepen our own knowledge, and also to contribute to the empowerment of others by sharing knowledge and experience.
Some international stakeholder engagements and forums we participated in so far this year include:
The African Coalition to End Sexual Exploitation (CESE Africa), looking at specific challenges that the African continent faces regarding sexual abuse and exploitation. We have kept the coalition updated on the prostitution law reform process in South Arica. 

Contributing to strategic meetings of the International Coalition to End Sexual Exploitation (ICOSE).

We were also asked to present a recent session of the CESE Africa Ignite 2022 Leadership Training Series on Sexual abuse and exploitation. Our presentation considered the link between prostitution, pornography and sex trafficking.
Other Opportunities to Engage Our Peers and Work Together
We regularly meet and correspond with our allies in the Movement to End Sexual Exploitation. Some of the peer engagements we participated in over the past five months included:
The Western Cape Department of Community Safety (Child Trafficking) Forum.

The Drakenstein Child Protection Forum.

The Helderberg Child Protection Forum.

The Film and Publication Board's Child Protection Week Webinar

A Freedom Day Family Seminar of a local church congregation. In addition to addressing delegates on state-sponsored (comprehensive) sexuality education, we raised awareness of the reality and importance of parents needing to prepare children to respond appropriately to pornography exposure.
EQUIPPING OURSELVES TO EQUIP YOU
Empowering you is a top priority for us, and this means that we also need to keep ourselves updated and equipped. Over the past five months we attended:
A webinar on 'Fighting against online sexual abuse and exploitation through legislation and policy' (presented by the Washington DC based, National Center on Sexual Exploitation and the Political Network for Values). 
A Civil Society Review Session: Findings and Recommendations from the "Criminal Justice Insights" component of the National Trafficking in Persons Research Study done by Dr Marcel van der Watt of ICOSE.

A Workshop on "Inappropriate Sexual Behaviours (ISB) and the use of pornographic materials in children and adolescents" – presented by Jelly Beanz Training
UPCOMING EVENTS
2022 Coalition to End Sexual Exploitation (CESE) Online Global Summit
From 13 – 17 September 2022, the annual Coalition to End Sexual Exploitation (CESE) Online Global Summit will be taking place. We encourage everyone who wants to do something about the scourge of pornography and other forms of sexual abuse and exploitation in our country, to register to attend this FREE online summit.
Here is some more detail on the summit from NCOSE CEO, Dawn Hawkins:
"The rise of the Internet, social media, and other technologies have completely revolutionized the way people live. Along with the good these developments have made possible, they have also unleashed tidal waves of sexual harm: pornography exposure abuse; sexually explicit and sexually violent video games; child sexual abuse images; spycamming; sexting; sextortion; "sugar daddy" sites; online sex trafficking; prostitution review boards; compulsive sexual behaviors; grooming, and more. 
Modern technology is accelerating the pace and scale of sexual abuse and exploitation. This reality—combined with a toxic deluge of pop culture messages normalizing harmful attitudes and behaviors—is rapidly transforming forms of sexual abuse, violence, and exploitation from the intolerable to the fashionable and "normal." 
Young people are the most impacted. They have little to no chance of living lives free from the harmful impacts of these phenomena. 
These challenges are urgent. If we don't act now, we may miss this narrow window of opportunity to turn the tide. We must stand together to confront the rising tide of abuse and exploitation. 
This is why the Coalition to End Sexual Exploitation Online Global Summit creates a one-of-a-kind setting, where people from across sexual abuse and exploitation sectors, as well as from a diverse range of professional, political, and personal backgrounds, coalesce to be informed, equipped, connected and inspired. 
Don't miss this unique opportunity to find common purpose with others who believe in preserving respect, intimacy, mutuality, responsibility, and love in human sexual relationships. 
Be sure to RSVP today, we would love to have you with us! 
Dawn Hawkins 
CEO, National Center on Sexual Exploitation"
__________
You can sign up for the Summit HERE.
*****
2022 CESE Africa Summit
From 20 – 22 September 2022, the CESE Africa Summit will be held at UNISA's Muckleneuk Campus in Pretoria and online. 
According to the organisers of the Summit:
"The summit aims to bring together stakeholders across the African continent to share their knowledge about diverse forms of sexual exploitation and work collaboratively to increase awareness and strengthen global efforts toward prevention and protection."
We encourage all South African's who are concerned about the current levels of sexual abuse and exploitation in our society, and everyone who care about the safety, health and well-being of children, to not miss this historic event.
Register HERE today!
***
RAISING YOUR VOICE WITH US!
At CASE-SA we are committed to relentlessly pursuing the protection of everyone's inherent dignity through the education and empowerment of society and the eradication of pornography and other forms of sexual exploitation.
If you are passionate about protecting the vulnerable, affording every person the dignity and respect they deserve and creating a society free from sexual exploitation, we invite you to support our work by way of regular or ad-hoc donations. 
Without your contributions, our dedicated and passionate team will not be able to take part in this great project to end sexual exploitation in our lifetime. 
To join us in this important and worthy battle, visit https://case-sa.org/donate/ to show your support.
Together we CAN #EndSexploitation in South Africa!