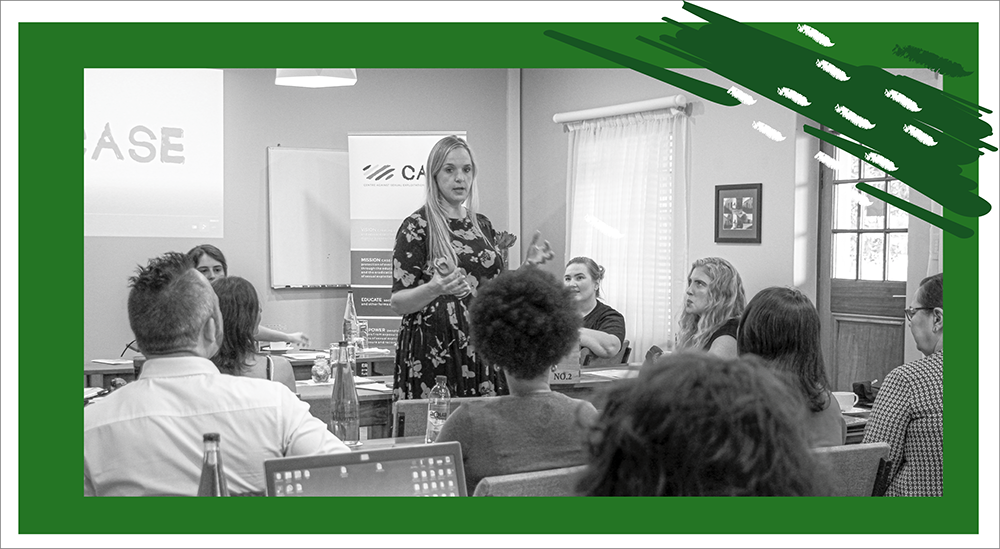 Coalition Building 2020
ENGAGING AND EQUIPPING THE MOVEMENT TO #ENDSEXPLOITATION
We cannot fight sexual exploitation on our own. The scale of the problem is simply too big. Fortunately, there are many like us, who are passionately committed to making a stand – and joining hands with others – to fight the global pandemic of sexual exploitation.
During the course of 2020 – despite the challenges of Covid-19 lockdown regulations and restrictions – CASE-SA has continued to engage and contribute to strengthening the Movement to #EndSexploitation.
Global Summit of the Coalition to End Sexual Exploitation
This year the Coalition to End Sexual Exploitation 2020 Global Summit went online. This meant more abolitionists (i.e. those standing for the eradication of all forms of sexual exploitation) could join from around the world (and attendance was free).
CASE-SA Programme Director, Ryan Smit, presented a thought-provoking workshop on a complex topic: "A Human Rights Analysis of "Obscenity"/Adult Pornography – A Case Study: South Africa"
In his work with CASE-SA, Ryan focuses on the intersection between freedom of speech/expression and the protection of human dignity in the context of sexually explicit media content. His workshop will investigate and evaluate the merits of adult pornography as "speech" in the context of a liberal Bill of Rights – that of South Africa.
Feedback from attendees was overwhelmingly positive – and hopeful that together we can #EndSexploitation. It was definitely not an event to be missed and we are already looking forward to meet-up and share insights and strategies with our fellow abolitionists next year.
Strengthening the Coalition to #EndSexploitation in South Africa
This year CASE-SA hosted two successful peer events as part of our commitment and contribution to strengthening the coalition against sexual exploitation in South Africa.
Our first peer event was held in March – just before lockdown – and we could spend a productive day with a diverse group of anti-sexual exploitation stakeholders. Attendees included well respected academic scholars; veterans of outreach and "on the ground" work with persons in prostitution and human trafficking; legal experts in legislative change and lobbying; psychologists; experts on technology that help keep children safe online; and passionate organisations that are doing tremendous work everyday to make a positive and impactful change in the world.
During our March meeting, we could explore opportunities for strategic collaboration, and discussed and mapped out major issues and concerns regarding sexual exploitation in South Africa.
In October, we had our second virtual follow up peer event – where we also welcomed some new participants – to check in with each other and take discussions forward. We updated each other about developments in the Movement, and discussed trends and gaps in the anti-sexual exploitation space in South Africa. Our conversation on working together strategically and the use of collaborative platforms continued.
The second meeting ended with a sense of excitement and hopeful anticipation of the meaningful work we can do – and the significant change we can effect – when we come together. We are encouraged to see that new developments and collaborative efforts are already being set in motion, and excited for more stakeholder engagement going forward.
Engaging Local and International Forums
During 2020, we needed to find new ways to continue our anti-sexual exploitation work. Just because many of us were, it did not mean that sexual exploitation was also "locked down". Tragically, the news reports indicated just the opposite – that sexual exploitation and gender-based violence was increasing dramatically.
Stakeholders wasted no time to engage technology to continue those aspects of their work that could be done online. In fact, an unexpected positive consequence of being confined to remote work, was discovering that we can continue to meet-up and do a lot – significant work even – virtually. This year we have attended numerous important peer and stakeholder meetings; insightful webinars and even conferences online; and even had the privilege to give presentations at some of these.
In February, we were invited to a Child Exploitation Empowerment Workshop presented by Ezrah Training and Development in partnership with Valcare. Attendees learnt about the dynamics of sexual offending; how to guide the internet generation through the digital landscape; how to work together to find solutions to trafficking in children and child labour; and cyberbullying and internet safety.
CASE-SA Programme Coordinator, Liesl Pretorius, gave a presentation on the "Legislative Framework of Online Child Exploitation in South Africa" at the Jelly Beanz and Child Trauma Training Online Sexual Exploitation of Children two-day training event. The event was attended by social workers, psychologists and medical doctors; and covered topics such as understanding the many faces of online sexual exploitation; how to talk to children about online sexual exploitation; legislative changes related to pornography, sexting and grooming of children; and interventions for children addicted to pornography.
We have been attending the National Department of Social Development 365 Days of Child Protection Webinar Series which covers topics such as creating safety nets for exploited children, creating awareness on online and child trafficking risks, and online safety of children. During October, CASE-SA Programme Coordinator, Liesl Pretorius, gave a presentation on "Pornproofing Children's Spaces: Necessity and Practical Steps" which included an easy-to-use tool on how to pornproof your home or school, and introduced the attendees to our #ParentTalk on the Unspoken Epidemic of Pornography and Children and other useful resources.
During the course of the year, CASE-SA also engaged peers and fellow anti-sexual exploitation stakeholders across a variety of networks and platforms. Key networks in the local anti-human trafficking sector that CASE-SA is a member of and/or works closely with include the Counter-Trafficking Coalition in the Western Cape and the National Freedom Network.
CASE-SA also engages with international peers and stakeholders, and this year we attended peer meetings and discussions hosted by the International Centre on Sexual Exploitation (ICOSE), including those of international working groups on prostitution and sex trafficking, and child abuse. We also attended the ICOSE mini conference on Addressing the Harms of Pornography in African Nations, an informative event that brought together African leaders that have done incredible work to prevent child sexual abuse; courageously advocates against sexual violence; have done in-depth research on the harms of pornography to children; and brings a message of hope to children addicted to pornography.
Looking Ahead – Standing Together to #EndSexploitation
The year is not yet over, and we are looking forward to continue engaging stakeholders and attending important peer meetings and events in order to equip and empower ourselves and our fellow workers in the Movement to #EndSexploitation.
Educate – Empower – Eradicate